Boxit, storage rooms for companies and small businesses
---
Is your business growing and you need more space for staff?, Too many papers that you need to keep in a safe place??, A bunch of actions you don't have room for yet?? Boxit offers a solution of storage rooms for companies and small all-inclusive businesses, better than any furniture storage.
No furniture repository or storage room can offer companies what we provide.
Time is money and you need a flexible service, efficient to help you focus on your business instead of bothering with space problems. Wear, store and bring back is all waste of time. You need a cheap storage, efficient and flexible.
We store in our storage rooms everything that your company does not currently need.
We provide boxes that have strong lids for easy transport while in storage. They are even bigger than standard cardboard boxes and protect more and better. After we have stored your items in our secure and weather-protected warehouse the 24 hours, you can manage everything in the cloud through your personal account.
You need something? With a click or a simple phone call, We deliver your items within 24 hours.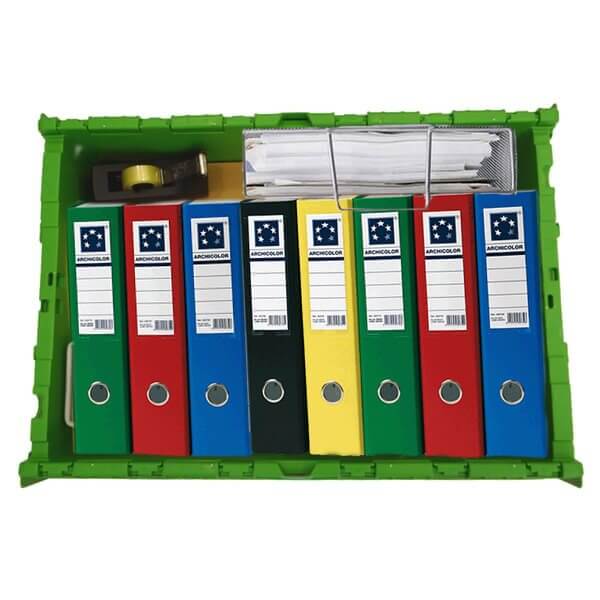 How it works ...
We put at your disposal our high quality green boxes to store your things in our storage room for companies. We bring the boxes right to the door of your business. Order as many boxes as you need.
Save everything that you need to store temporarily in the pit. We can also save your own boxes. You can even store cabinets, file cabinets, office tables etc.… Select a date for collection and an address in Malaga or any other place within the territory that we operate.
We transport the boxes or waxes to our warehouse. And if you need something, we returned quickly and easily in 24 hours.
Where and how to store your stuff?
Our ship is in a safe place in Malaga. The warehouse is fenced and guarded with video surveillance cameras.. There is a security service 24 hours. The access to our warehouse is absolutely prohibited, only have access to the our operators authorized.
All the boxes, boxes and bulky items are stored there are protected from moisture and dust.
How much does it cost storage with transport?
At Boxit we provide a service of storage full. We deliver boxes, the collect, the store and the refund. An easy way by which you should not worry about anything.
The delivery transport of boxes and their respective collection entails an additional cost as well as the removal of waxes. In Zone A €9.90 and Zone B €19.90 / journey. For larger spaces, collection and return carry an additional charge according to the size selected.