Alternative to cardboard boxes for moving from Leroy Merlin and Amazon
Boxit
Are you looking for an alternative to the cardboard boxes for moving Leroy Merlin and Amazon? What is affordable and functional? In this article we're going to teach you why it is more convenient and useful to rent moving boxes of plastic instead of buying the conventional cardboard.
The cardboard boxes can be purchased in establishments specific to the sale of material moving, but it is also sites such as Leroy Merlin or you can even buy moving online on Amazon. But the question is, What is the best option for the move?
We all know that cardboard boxes are fragile but this is not the fault of the manufacturers. In fact they are designed to be recycled. Unfortunately, the majority of the cardboard boxes end up mixed with organic waste. And that if they recycled, they need a large amount of raw material extracted from trees.
Boxit offers an alternative to cardboard boxes for moving Leroy Merlin and Amazon.
In other countries, the rental moving boxes is cash from a long time ago. Now it will be in Spain, thanks to Boxit. A company that offers a full-service rent plastic boxes for moving. Currently, the service is available in Malaga, Torremolinos, Mijas, Fuengirola, Marbella, Estepona...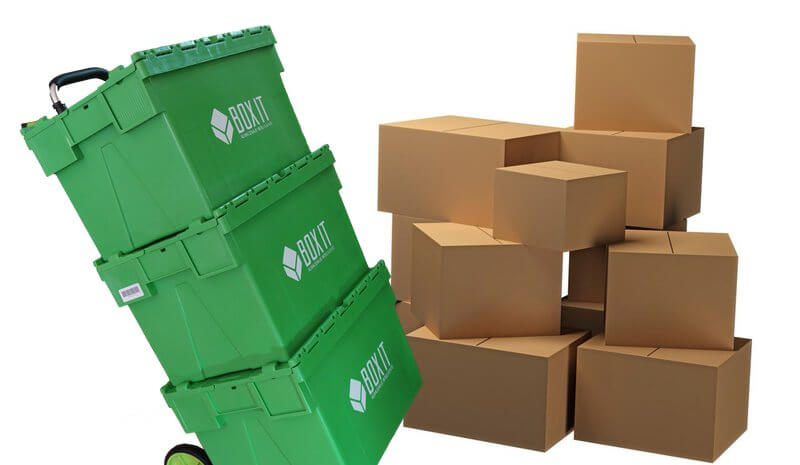 What do you mean by the full-service boxes for moving Boxit?
You will not need to leave home to find boxes. Through the internet you can buy and rent as many boxes as required for your move and receive your current address. For your greatest benefit, the boxes are made of reinforced plastic and have a lid so they are easy to stack.
Has a design with handles that not only makes it easy to transport, if you do not that also, you will be able to prevent your items from breaking during the move. As well, once you have finished, the boxes are collected and are prepared for your next client.
Do you already have clear on the alternative to cardboard boxes for moving Leroy Merlin and Amazon? If you still don't, look at the differences between the cardboard boxes for moving and rent plastic boxes.