10 Tips for packing boxes moving
Boxit
Everyone knows to pack things into moving boxes, since this is put things in a box and close it. But the question is: Do you know how to properly pack a moving box? With these simple tips for packing in boxes your stuff moving around will be much easier.
10 Tips for packing boxes moving.
Choose and get the box moving
Sort and separate your things before packing
Label each box
Begin packing
Package objects are more fragile
Not to load too much in the boxes
Save and package the jewelry
Lay out clothes and pack
Package and transport the food
Have everything packed before the move
1 Moving boxes.
In the first place before we get into the tips for packaging we have to talk about the moving boxes as it is an article essential to know how to properly pack. They have to be sturdy boxes, with features proportion perfect. Neither too large nor too small, because if you are small do not it is worth almost nothing, and if they are very large can weigh too much to move them.
To not make any mistakes when buying moving boxes, we suggest that you take a look at our rental service, moving boxes. The plastic ones are a few boxes very resistant and designed with handles for easy movement. Practically you can put any thing and not have to worry that you will break by crushing.
Momentarily the service is only available in the Costa del Sol as: Malaga, Torremolinos, Mijas, Marbella, Estepona... But if you want to move and you are in our service area, you can see which is the difference between buying moving boxes or rent them.
2 Separates the things that you don't use while packed.
Now that we have the boxes to package hands-on. Take advantage of this opportunity and put a bit of order on things that have to move. While you are storing things in boxes can you separate what you don't use.
It is best to have at hand a couple of boxes for different things. Make a box with things to sell, one to give away or donate and one for throwing things away that no longer serve for nothing and for nobody. Gets in them everything that you think you don't need to. If you get doubt about any garment or any object if desacerté of the or not only you have to wonder: How many times you have used?
At the end you'll see that it will be a lot less moving boxes to carry in your new house, what you thought at the beginning.
3 Label each moving box.
This tip to make your move easier. As you move, and you have to unpack if each box is labeled, you know exactly what it contains and who are the belongings that is located in it.
Do not limit yourself only to be labeled as such: "Bedroom". If you put some more details like: "Master bedroom linens" you will know exactly what it contains and if you need something you don't have to open all the boxes to find what you are looking for.
As you well know there are some things that you need to locate them from the first day of the move and others that can wait. With a good labeling, you should not have any problems.
4 Do where to start to pack?
To give you an example in these tips to pack you can begin by the kitchen. Put heavy items in the bottom of the boxes, for instance, some pans, dishes, and then you can fill the moving box with objects lighter, as tablecloths, kitchen or even silicon molds.
It is all a matter of knowing how to organize a move. Once clear, everything will be easier.
5 Package objects friars.
If you want to save money on moving you can use your clothes, the tablecloths, the kitchen towels... to wrap fragile objects and they are not damaged in the transfer. Use the pillows, stuffed animals, cushions... as in the protection of delicate things. So sure that he will not move inside the boxes and there will be no hit.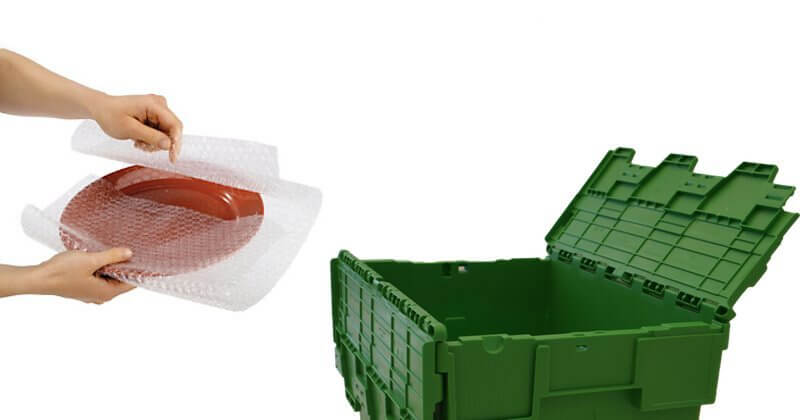 Really use filling material for moving boxes is to fill a space in our box. Sure to find something to fill and protect at the same time. You only need a little bit of imagination.
6 Do not overload the box.
Yes. It is very easy to fill a box without thinking about what that would weigh. Imagine if full of dishes that may weigh, so that then you will not be able or move it. If you choose to use cardboard boxes in your move, you must make sure that they will endure the weight that we made.
This problem with the plastic boxes don't have, but you have to think a little about it. If you have to move each box with too much weight at the end you can get hurt.You try to compensate for the weight of each box. Evenly distribute the weight idea is magnificent.
7 To package the jewelry.
A trick of the grandmother to pack and ship the jewelry. Is stretch on a bath towel and roll it, so do you prevent tangled chains. A lot of jewelry, for example, are blown in gold. It means that the less rubbing to take better.
Don't forget that the precious goods it is always advisable to take them yourselves. Especially if you hire a mover. Is not be a bad thought but it can happen that a jewel of a family break during the move for the simple fact that the workers of the company contracted to do your move do not know the contents of each box. Mark well and to the view each box that contains objects very friars.
8 Tips for packing clothing.
We know that we live in a world that goes too fast. To package the clothing, take your time. You don't have to put the clothes in piles in boxes. It is best to prepare in advance the clothes well folded. It off helps to locate and unpack easier. Never goals the shoes of the streets with the clothes if you don't want to have to wash it after the move.
9 Empty the fridge and pantry.
The days leading up to the move, try to plan meals with what you have in the fridge and the pantry, so you don't have to move the food to the new house. Purchase only what is strictly necessary.
It is usually the last thing packed and first unpacked. Not just because they are perishable products, but because the food is a first need. If they are products that require a specified temperature it is best to put the food in bags in isothermal conditions before you put them in the boxes moving.
10 Packed everything before the moving day.
Be prepared a day before the move. So if you as if a mover is best to have everything ready and only for loading on the truck. It is not the time to stand up to close boxes.
Your move will be easier if you do a case of these tips for packaging.