Renting a storage room will facilitate the life
Boxit
If you need to get better organized, it is clear that you lack to rent a storage room in your life for it all that much easier. In fact, there are many reasons that make having a storeroom flexible you can make your life easier.
A good storage helps to free up space at home. Since it lets you save everything that you don't need on a frequent basis. It is a extra space that could be used as an additional room in the housing. Cuántas veces has pensado ¿que bien sería liberar de cosas la habitación de invitados? Tu solución es el alquiler de trasteros.
But, no cualquier trastero sirve para todo el mundo. Un trastero flexible como Boxit permite guardar por cajas o mobiliario incluso una bici. Este servicio es ideal para aquellos que desean guardar solamente algunas cosas. Normalmente en los trasteros convencionales tienes que alquilar un trastero entero aunque solamente necesitas el trastero para guardar algunas cosas.
¿Para que alquilar un trastero

?

Alquilar un trastero puede ser muy útil si estás pensando en mudarte y te vas a mudar a una casa más pequeña. Esto ocurre más frecuente de lo que crees, porque te has dado cuenta de que no necesitas tanto espacio, porque tus hijos se han independizado o por cualquier otro motivo. Un trastero seguro te facilitaría la mudanza.

Otro de los motivos más comunes para alquilar un trastero es el de los desplazamientos fuera del país, sobre todo de los jóvenes. Si tienes muebles y cosas que deseas guardar pero no te las puedes llevar y además no sabes cuándo vas a volver. Sale mucho más económico alquilar un trastero que alquilar una casa en la que prácticamente no vas a vivir.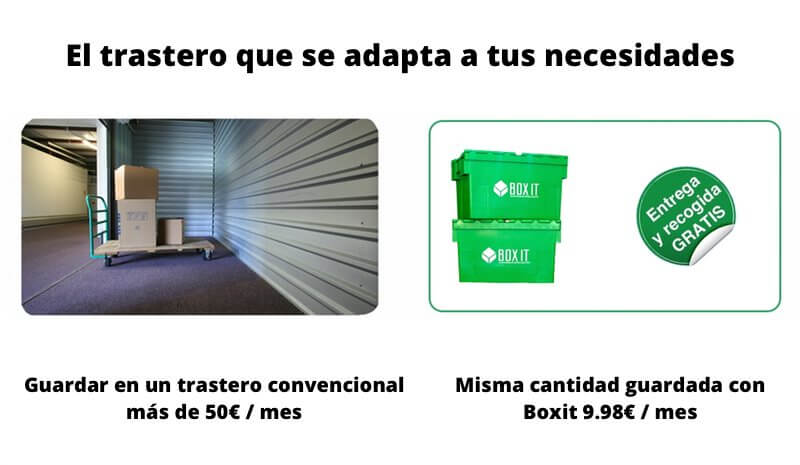 Incluso si vas a hacer una obra en casa, un storage flexible también te hará la vida más fácil. No solo te lo agradecerán los profesionales que ayas contratado para hacer la reforma, que no tendrán que estar moviendo y esquivando muebles durante la obra, sino que te permite protegerlos del polvo. In addition, será mucho más fácil colocar todo en su sitio al acabar.
Por último, pero no el menos importante. Muchas personas ya disponen de un trastero para guardar todo lo relacionado con sus hobbies y aficiones. Por dar un ejemplo. Si sois enganchados a la pintura o al bricolaje necesitáis muchos accesorios y un trastero es el lugar perfecto para guardarlos cuando no los utilizas. Así no te quitan espacio en tu casa. Además así se puede evitar dejar de lado algunos hobbies por la falta de espacio.