How much does it cost for a move ?
Boxit
If you ever had to move house, sure the first question that pass through your head was how much it costs for a move. And if you never, until now, you had moved, but you're going to do it soon, it is a fundamental issue in addition to insurance you'll want to know the answer.
The effort and work involved in moving house, with all the belongings that package, to prepare and to transport from one site to another, you have to do the math to know how much a move really costs.
That's why, Before starting your move, it is essential to calculate the price of this entire complex process.. Although you have already decided to make the move on your own, it will always cost you money.. In addition to the cost of gasoline, boxes and other materials needed in a move, or rent a van, You must also include the hours that you are going to dedicate to it. Don't forget that time is also money.
The advisable thing to avoid unnecessary contingencies is to have the services of a professional moving company. You will also avoid more moments of stress than this type of change already entails., and you can end up with pain or discomfort due to the physical and mental effort made.
Thanks to the experience and practice of the people who work in professional removals, they will know how to advise you so that you optimize the entire process of moving your home.. Also, they can advise you to prioritize and know where to invest more or where to adjust the price of your move.
Factors that influence the answer of how much does a move cost.
The moving boxes
furniture disassembly
What day of the week do you move?
Vehicle
Distance
To know how the price of a move is calculated more or less, the first thing you have to find out is the volume of your belongings. Companies specializing in removals usually value it by cubic meters (m3). If you want to adjust this cost to the maximum you can make an inventory with all the items. As well, When you request a quote, it is easier to clarify how much a move like yours costs and to be able to lower the price of your move.
Once the volume is clarified, There are several factors that will increase the price such as:
moving boxes:
It is not always a good idea to buy moving boxes. Since it could be expensive, but it's also not a good idea to use recycled cardboard boxes. For hygienic reasons and more if we do not know its precedence. The solution to this problem is Boxit's moving box rental. Resistant plastic boxes where your belongings will not be in any danger during the entire moving process. In addition, you will not have to go out to look for them since the service is with delivery and collection..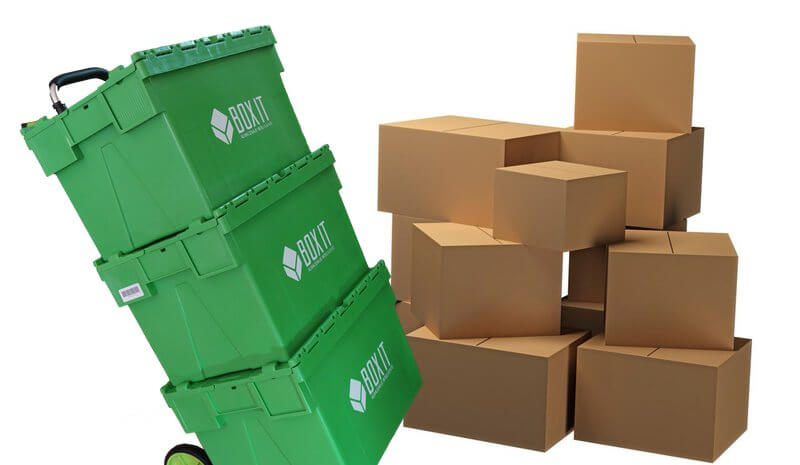 furniture disassembly:
In the case of contracting this task with a moving company, the price would skyrocket. The best thing in these cases is to start early and disassemble the furniture yourself. ( if possible ). Once disassembled pack everything, without forgetting to reinforce the corners where a piece of furniture is more likely to break during a transfer.
On what day do the move:
If you are working during the week and you can only move on the weekend, it is better to find out beforehand if the moving company works that day and especially if it has any additional cost..
Moving transport vehicle:
Is not the same hire a van yourself and pay not only the day you rent it. also the fuel, plus the time you spend picking it up and returning it. In addition to looking for people to help you move. It is best to hire an all-inclusive moving company.
The distance of your move:
Although we have left it for the end, is not less important for that. It is a key factor and influences the price. Moving from Marbella to Fuengirola, for example, is not the same as moving from Marbella to Madrid.. It is considered one of the most influential factors to know how much a move costs.
If you need advice in Boxit you will not only find services such as rental moving boxes or storage rooms. We can also offer you an effective solution for your move with transportation and qualified moving staff.. Request your quote online through our contact form or simply call us.