The best boxes for moving are essential
Boxit
The good moving boxes they are packaging that can change from a quick move, easy and simple to a move of total failure. Think of these pieces of cardboard so fragile they are the only thing that separates your belongings from damage, get dirty or even break. As well, it is essential that in every move we take our time to choose that moving boxes we will use on our next transfer.
Just the value, but without them our activity is unthinkable. Good moving boxes are essential in all kinds of transfers. They are the necessary support for household items. Merchandise in a store. The folders of an office etc… This type of container will allow us to move belongings from one place to another. The most used in removals are cardboard boxes but there are also a good alternative to cardboard moving boxes, What are the most suitable boxes to make a move?
This time we are going to find out what type of moving box is best for our transfer and why. It is very important that when you consider packing your belongings yourself and preparing them for the move, you know exactly what type of packaging you need..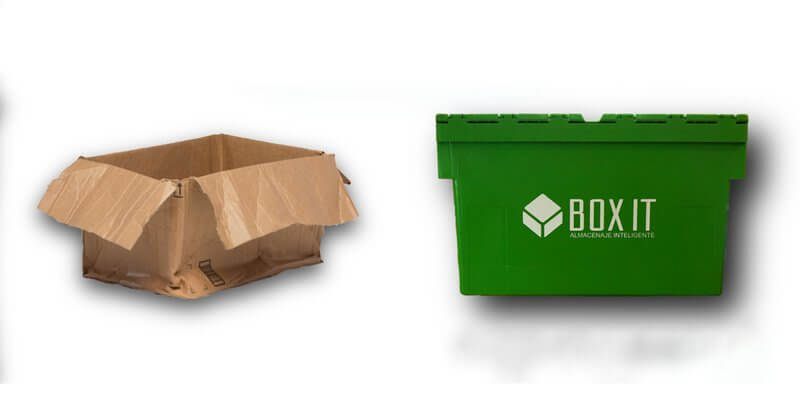 Characteristics of good moving boxes:
Use the right box. Realize that you are going to move the boxes many times until you find the place to put the objects that are in them. We recommend using our resistant plastic boxes since their integrity is not affected by continuous movement..
Size does matter. When we talk about a good size of boxes, we do not only mean that it is perfect to store our things. It is also important that they are the same size so that it is easier to stack them.
not a drop of water. In this matter, with just a few drops of water, the cardboard boxes for removals would not resist our transfer.. Plastic boxes are perfect against the adversities of time.
worries are bad. With all the stress that a person suffers when they have to make a move, taking a weight off our shoulders such as the concern of whether our belongings are well packed and will withstand the move is something very beneficial..

When you go to make a move never lose sight of our type of packaging. The resistant plastic moving boxes are a great invention that facilitate any move. What's more renting our moving boxes It also means savings for your move.